Clann Wars
Battle of Agincourt
Pick your Side, Join the Fight
Attention!
Good Gentles of these Mighty Outlands!
Hear this call to arms from the southern reaches of our Kingdom! The small, but fierce, Shire of Nahrun Kabirun is hosting Clan Wars in Las Cruces, NM on June 11th, 2022.
In this recreation of the infamous Battle of Agincourt, who's banner will you rally behind!
Will it be our very own Lord John Wryght, who fights in support of King Henry V and his claim of dominion over various lands and titles?
Or will you lend your arms to his Excellency, Sir Rowland de Grey of the mighty al-Barran, fighting to defend the the name and reputation of King Charles VI of France, who stands firm against this would-be usurper?!
Help us settle this dispute once and for all!
Location for Queens Prize, classes and court will be at St. Andrew's Episcopal Church, 518 Alameda Blvd, Las Cruces, NM 88005
Location for Fighting will be at Pioneer Women's Park, 500 W Las Cruces Ave, Las Cruces, NM 88005
PENDING Location for Archery will be the Las Cruces Archery Range, 555 Sonoma Ranch Blvd, Las Cruces, NM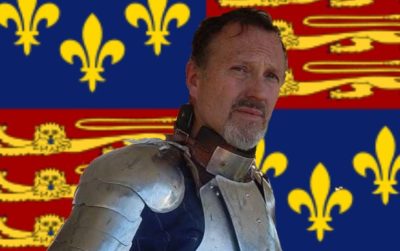 Lord John Wryght
"Once more unto the breach, dear friends, once more;
Or close the wall up with our English dead."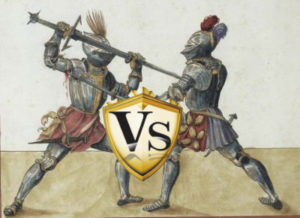 Sir Rowland de Grey
"The English Pig-dogs will know the bitter taste of steel."
Preregistration
Preregistration for the event is recommended!
Queen's Prize!
To be held Saturday June 11th during Clan Wars
Her Royal Majesty's theme is:
Queen's Prize is open to anyone of all ages.
Minimum documentation is needed, your name, what you made, why you made it and how you made it.
You must have a sponsor, A Lady of the Rose, a Laurel, or a Flower.
Sponsors must be with the entrants during the contest. Sponsors do NOT need to purchase a "gift" for the person they sponsor (Unless they wish to).
Queen's prize information can be obtained by emailing:
Combat Scenarios
To be announced!
Due to location changes
List opens at 8:30am with armor inspection and authorizations until 10:00am.
Quick Schedule
8:00 – Site opens
8:30 – Heavy/Light list opens
9:30 – Combat begins
12:00 – Queen's prize
4:00 – Raffle
5:00 – Court Begins
8:00 – Site teardown
Class Schedule
Classes will be held throughout the day, don't miss one you really would like to see!
History of Agincourt-
Lady Tu la
Good Gentiles, come and hear tell of how a new generation of French and English kings and commanders, restarted old rivalries. Of how England's King Henry V met and challenged an overwhelming force at the Battle of Agincourt in the year 1415 C.E.
Bonsai – Lord Lorinc Otog
An introduction to the history, art and culture of bonsai. Class will be a mixture of lecture and rudimentary demonstrations on several of Magistrate Otog's personal trees. Perspective attendees are encouraged to send questions to either Lady Dragoslava or Magistrate Otog.
Darning – THL Suzanna Jewell
Pattern darning is a simple style of embroidery that uses running stitch to create a design on fabric built up line by line. The design appears on the front of the fabric, and in negative on the back. We are embroidering on tea towels for our feasting kits and using embroidery thread.
Period Dance: Khaleegy – Lady Gianina The Wanderer
Learn the basics of the costuming, a brief history, and the simple dance that has its roots planted in the Gulf Coast of the Middle East!
Wood Finishing – Lady Guinevere Inghean Ui Ainle
If you work with wood, you know that the final stage of any project is staining and finishing. Stains can add a beautiful enhancement to any project. Stain brings out the natural grain of the wood, rather than covering it up like paint. Even if left natural, wood has to have a finish on it to preserve the wood from cracking and rot. You could use a commercial stain and finish, or you could use a natural stain & finish. Natural finishes are easy application, cheaper than commercial finishes, and easy to clean up. They provide a unique look to any project. In this class, I'll share some of my favorite natural stains and finishes. We'll discuss some period techniques & finishes, but most of the stains we'll look at are modern recipes. A list of resources and recipes will be provided.
Pewter Casting – Lady Erin Inigena avi Cunneti
White smithing is the process of casting Pewter or tin based alloys. Its low melting temperature makes it an accessible casting medium that can be worked with minimal tools. Come learn this technique and students are welcome to bring a small simple piece they may want copied
Lucet – Lady Gianina The Wanderer
this is a simple, yet useful craft that is an excellent way to keep your hands busy in court as well as provide plenty of cord with multiple that has lots of utility.