Clann Wars
Táin Bó Cúailnge
Cattle Guards?
Attention!
Clann Wars pits two warring clans against each other in battles of bravery, chivalry, and raucous antics. This Year, Ulster and Connaught will war over possession of the brown bull of Cooley! Clans will be awarded points throughout the weekend for marshal and fencing prowess, A&S abilities, Largess derby, and volunteering. An extra point will be awarded for each pre-registration.
TBD
Commander to be chosen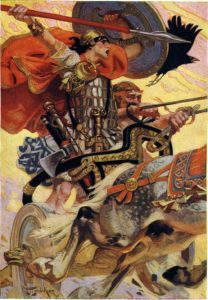 TBD
Commander to be chosen
Preregistration (Not yet Open)
Preregistration for the event is recommended!
Combat Scenarios
To be announced!
List opens at 8:30am with armor inspection and authorizations until 10:00am.
Quick Schedule
8:00 – TBD
8:30 – TBD
9:30 – TBD
12:00 – TBD
4:00 – TBD
5:00 – TBD
8:00 – TBD
Class Schedule
Classes will be held throughout the day, don't miss one you really would like to see!
General Info
Event Steward:
Lady Cecilia Tretheway (Terri Alavarez) terrialvarez@hotmail.com
Adult Member $20/ non-member $25
Youth 6-15: $5
Family cap: $50
Day trip adult $15 member/ $20 non-member
Day trip youth: $5
Site is Wet Site
Directions:
From the North:
Take I-25 South towards Las Cruces exit #139 toward US 380 East towards San Antonio/Carrizoso Slight left onto US 380E, Slight right onto NM 37 S (Follow signs for Ruidoso/Nogal) turn right onto NM 48 S/Mechem Dr; turn right onto Cedar Creek drive. Follow road into campground. Signs on right.
From El Paso/South:
Take I-10E into texas, Exit 22B towards US 54E/Patriot FWY/Alamogordo/Ft. Bliss; continue and move onto US-54E; turn right onto US-70E/S White Sands Blvd;contine on US-70E 48 miles; turn left onto Sudderth Dr, turn right onto NM 48 N/ Mechem Dr, Turn left onto Cedar Creek Dr. Follow the road into the campground, and look for the SCA signs on the right.
GPS info: 33.36139,-105.68472 -33deg21'41″N, 105deg41'5″W