Clann Wars
Táin Bó Cúailnge
Cattle Guards?
Attention!
Clann Wars pits two warring clans against each other in battles of bravery, chivalry, and raucous antics. This Year's theme: The Cattle Raid of Cooley! Clans will be awarded points throughout the weekend for victory in battle, acts of bravery and chivalry, Largess Derby, A&S talent, and volunteering. An extra clan point shall be awarded for each pre-registration. Will your clan prevail?
Events will include heavy, light, and archery tournaments and battle scenarios; A&S classes & displays, brewing competition, and merchants. Saturday evening, enjoy a potluck feast, Bardic circles, and unmentionable antics around the campfire (restrictions permitting).
This event is full of fun and frolicking in the cool, mountain woods of Ruidoso, NM. please plan accordingly for mountain weather. The days will be cool/warm and the nights will be cold; rain showers are possible. Bug spray is advisable.
TBD
Commander to be chosen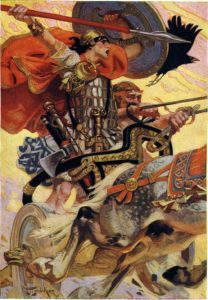 TBD
Commander to be chosen
August 4 – August 6
Clann Wars Schedule:
Friday Aug 4th:
1300: site opens
Sunset: Bardic Circle
Saturday Aug 5th:
9am: Opening "court"/heavy armor inspections
10am: Heavy Scenarios
NOON – Lunch Break
13:00 Light Scenarios
13:00 A&S activities
18:00 Pot Luck (there WILL be Brisket!)
Sunset: After dark games
Sunday:
9am: Closing "court"
11am: Site closes
Archery and fencing are works in progress, check back for more!
Combat Scenarios
Heavy Scenarios:
Tavern Brawl: Queen Maeve of Connact has sent an offer to King Conchobar of Ulster to borrow the Brown bull of Cooley. Fighters will meet head-to-head in a Tavern Brawl to negotiate the deal for the bull. Fighters will start four to a small table and full gauntlets and daggers and other hand weapons will be used to "Negotiate".
Rules: 2 foot and under or improvised weapons (if you are going over two feet). State your case to the bouncers at the tavern door (aka filed marshals) on what your "weapon" really is. The bouncers reserve the right to make things "interesting." Otherwise, standard SCA rules apply which means no punching, kicking, or grappling. No combat archery as this will be close quarters with unarmored observers.
River battle: King Conchobar initially agrees to the lend out the bull but after hearing of the ruckus caused in the tavern changes his mind. Outraged that he went back on the deal Queen Maeve sets out with her Connact forces, and must cross the many rivers of Ireland to fight with the Ulstermen.
Rules: Fighters can Ford the river by crossing on their knees or fight with spears from the banks. Combat archery allowed provided there are enough marshals.
Take the Bull: Once in the land of Ulster each side will wrestle for control of the bull itself. Whoever has control of the bull and are the last ones standing will win the round.
Rules: Two fighters must have hands on the bull at a time to maintain control of it for their side. Combat archery will be allowed provided there are enough marshals.
Light scenarios (depending on fighter attendance)
Through the City:
With the help of a friend, you are trying to make it through the city with your stolen calf. Can you make it through the town square before you are caught by the offended clansmen? 2v2 (or more) teams on offensive and defensive in narrow and open space.
Sickness Spreads:
It only takes one to infect the many. With one or two cowherds infected with the "sniffles", let's see how it can snowball into an entire clan catching it. Warm-up scenario to get us loose and limber.
More scenarios depending on time and willingness to continue!
Light tournaments (depending on fight attendance)
First blood (no kill)
Can you hold your own without killing your opponent? This will be one on one tournament style with maiming only. First fighter to draw blood not in a kill zone wins the round. Two pools will run concurrently. Finalists from pools will fight for victory. Bring your best! Prizes for winner, best dressed, most chivalrous, most creative kill.
King of the Hill
There can only be one victorious clan in this clash of titans! Can you hold and guard the herd the longest? 30 minute (tentatively) bear pit style. Points earned for each fighter's clan that can hold the field. Prizes for most wins, best death, and best insults.
List opens at 9:00am with armor inspection and authorizations until 10:00am.
Class Schedule
Classes will be held throughout the day, don't miss one you really would like to see!
General Info
Event Steward:
Lady Cecilia Tretheway (Terri Alavarez)
clanwars@sca-lascruces.org 575-312-1958 (no calls after 9pm please)
Adult Member $20/ non-member $25
Youth 6-15: $5
Family cap: $50
Day trip adult $15 member/ $20 non-member
Day trip youth: $5
Make checks payable to SCA Inc – Shire of Nahrun Kabirun
Pre-registration is encouraged and will be rewarded. Indicate if you will be representing Queen Maeve of Connact or King Conchobar of Ulster.
Mail checks to: 2290 Thomas Drive, Las Cruces, NM 89011
Site is Wet Site
Directions:
Cedar Creek (Sam Tobias Campground)
106 Cedar Creek Drive, Ruidoso, NM 88345
From the North:
Take I-25 South towards Las Cruces exit #139 toward US 380 East towards San Antonio/Carrizoso Slight left onto US 380E, Slight right onto NM 37 S (Follow signs for Ruidoso/Nogal) turn right onto NM 48 S/Mechem Dr; turn right onto Cedar Creek drive. Follow road into campground. Signs on right.
From El Paso/South:
Take I-10E into texas, Exit 22B towards US 54E/Patriot FWY/Alamogordo/Ft. Bliss; continue and move onto US-54E; turn right onto US-70E/S White Sands Blvd;contine on US-70E 48 miles; turn left onto Sudderth Dr, turn right onto NM 48 N/ Mechem Dr, Turn left onto Cedar Creek Dr. Follow the road into the campground, and look for the SCA signs on the right.
GPS info: 33.36139,-105.68472 -33deg21'41″N, 105deg41'5″W
Nahrun Kabirun Largesse Derby Rules
Derby Guidelines:
Submit any 6 handmade items (items do not have to be the same). Items will be displayed for the day so that everyone can admire all for your hard work.
Please keep the following items at home to enjoy: Alcohol or marijuana based items (including CBD), perishable items (including items that may melt in high heat), modern items, items that may be construed as graphic or age inappropriate. If you aren't sure- check with Lady Guinevere.
LABEL your largesse!!!
For every piece of largess include:
Your SCA name (if you have one)
Branch name
A description of your item- what is it? Where's it from? (if you know)
A list of ingredients- this is super important for items like salts, soaps, lotions, etc. (we need to make sure to keep our populace safe from allergies). All potentially allergy-inducing items must be securely wrapped. If you can smell it without unwrapping it, it isn't wrapped enough. Modern zip-topped bags may be used.
Labels will be available at the event if you need them.
Everyone is a winner! Before evening court, entrants will meet and randomly draw a number. Based on number drawn, entrants are able to choose 1 item (not their own) as a prize for competing. Once an item is picked, it will be removed from the pool. The remaining items will be added to the largesse coffers.
Please contact Lady Guinevere inghean Ui Áinle via Facebook Messenger if you have questions.
What is Largesse?
Largesse is a French word, meaning "the bestowal of gifts" or "generosity". This is a common outlet for your A&S work. Most groups maintain a largesse coffer that is used to bestow gifts from the group when attending Kingdom events. Largesse is given to the Royals, Nobles, and/or event stewards, who then use the largesse to reward people from their Kingdom or group as they see fit. Generally, a bag of assorted largesse is given (most kingdoms prefer bags over baskets because they are easier to transport and store). Largesse can be made up of handmade or purchased items, but the emphasis should be on handcrafted, period items.
Likewise, the group receives largesse from visiting Royals and Nobles at events we host. This largesse coffer is used to reward members of the group who have helped with the event. Largesse may also be given to individuals that the group officers deem worthy as a symbol of thanks.
Clann Wars Trade Table
We all have items we no longer want and items we may need; such as books, jewelry, garb, feast gear, or any other SCA-appropriate items. There will be a trade table set up where you can leave and pick up what you would like. Any items remaining at the end of the event will be added to the Shire's largesse coffers or may be picked up if you'd like them back.
After Dark Games: Please note that these games are rated PG-13
What's Under My Kilt? – We need both contestants and guessers! Prizes will be awarded for most correct guesses and for the favorite item that they discover.
Rules: Contestants will be required to have their regimental bits tucked away to prevent accidental groping. Contestants will also be screened to ensure compliance with the PG-13 or friendlier requirement.
Clann Feud – Being as this year's event will be a "family" affair, we will be playing an SCA version of Family Feud. Team Conchobar will face off against Team Connact.
Rules: indicate your desire to participate when registering or trolling in. Teams will consist of the person playing the King/Queen and four brave individuals. If there are less than four volunteers then we will conscript some from the audience. If there are more than four volunteers then we will pick the lucky participants from a hat.